Abscessed Tooth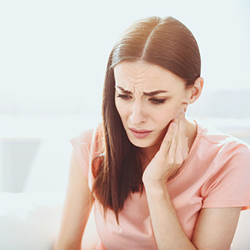 If you have ever noticed a white spot that looked like an acne pimple on your mouth, had a foul taste in your mouth, noticed any pus on your gums, or had tooth sensitivity, then there is a fairly good likelihood that you have experienced a dental abscess. While a dental abscess may not seem particularly severe on its own, it is one of the most dangerous and potentially life-threatening conditions that you could experience in your mouth. Dental abscesses form when your tooth gets an infection inside it, and if that happens, we here at Boones Landing Dental Center need to act quickly before the infection spreads, worsens, or becomes deadly.


Why Do I Need to Worry About Dental Abscesses?

To understand the risks of dental abscesses, you first need to understand what a dental abscess is. A dental abscess is a pocket of pus that forms in the tooth or the gums surrounding your tooth. When your tooth develops a bacterial infection (whether from advanced tooth decay or injury to the tooth), that infection may attack the soft inner portion of your tooth called the "pulp." If the pulp dies, then pus can start to build up, creating the abscess.

Early signs of a dental abscess include pain radiating from the infected tooth to your neck, jaw, or ear. Other symptoms of an abscess are pain when chewing, biting, or eating. This pain may grow worse when you recline or lay down. Your face may swell up, and you may also start to run a fever, and your lymph nodes may become swollen. Your teeth may become loose, and you might have halitosis (bad breath). However, these are just some of the many symptoms of an abscess, and your symptoms may vary. Regardless of which symptoms that you develop, it is extremely vital that you give us a call right away.

Many people seem to underestimate the dangers of a dental abscess. A dental abscess can go from painful to lethal in a very short amount of time, in just a few days or less. Because of the proximity of your mouth to your brain, the infection can quickly spread to your brain and cause an infection there. It can also turn your blood septic, or your throat may swell shut. Any of these complications can cost you your life.

If we determine that you have an abscessed tooth, there are several different ways we can help you treat it. We may prescribe antibiotics to kill the bacteria and stop the infection. We may also need to lance and drain the abscess to relieve the pain and pressure and remove the pus. If the tooth is severely infected, we may have to perform a root canal as an effort to save it. Unfortunately, sometimes the infection is so severe that we may have to remove your infected tooth completely.

Preventing abscesses includes taking good care of your teeth and gums. Make sure you brush your teeth twice a day and floss every night. You also need to schedule regular dental appointments with us for a checkup and a cleaning. If it has been longer than six months since your last dental exam, please give us here at Boones Landing Dental Center a call at (503) 601-0610 today for your next appointment with us!